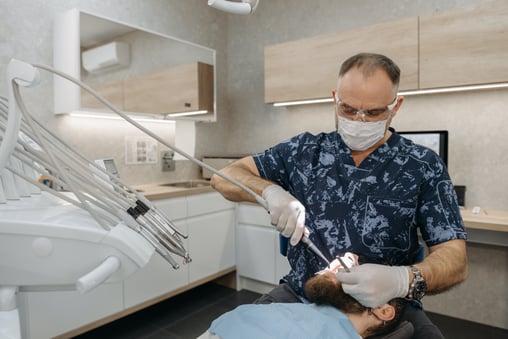 My family mechanic can tell us anything about our car ̶ what it needs or doesn't need, and we will believe him and follow his advice. Why? Because we trust him. If we bring in the car and there's nothing wrong with it, he says so. If the problem is serious, he says so and tells us up front what it will cost so we can figure out if we can afford it. What's more is that he is consistently like that. Our relationship with our mechanic illustrates three ways to avoid financial dramas with your patients.
1. Lay all the cards on the table as it pertains to treatment.
Inform the patient from the get-go about the dental procedures they need. One of the best tools to use is the comprehensive oral evaluation. This thorough examination puts you in a position from the beginning, to create a treatment plan, which educates the patient about any dental issues he/she has. It's not to say that certain conditions can't develop later, but if each time the patient visits your office, you are informing him or her about a new dental problem, it's quite likely that this patient will become suspicious and distrustful of you and your staff.
2. Be up front when it comes to money.
Many people who walk into your office are already on guard. The all encompassing thought is, "Is this doctor going to try to rip me off?" It gets a little more challenging as many people don't understand how their dental insurance works. So, do yourself, your staff, and your patient a favor. Once you present the patient with a treatment plan, dedicate time to go over the cost.
If they have dental insurance, communicate as clearly as you can what their responsibilities will be. If something is not covered by their plan, say so. This transparency will go far in making your patients understand that you are not trying to pull the wool over their eyes. It also gives them the chance to consider the treatment recommendations, the cost, and if they want to continue care with your dental office.
3. Encourage them to contact their insurance.
The truth is that the patient has entered into a partnership with you and their dental insurance company to get affordable dental care. And even though you may understand the patient's plan, the true expert on their coverage is their insurance company. Referring them to their insurance carrier for information regarding procedures and their costs shows that you have nothing to hide. Moreover, it shows that you want your patient to be educated about his/her dental plan and get the benefits they are paying for.
You're busy from the time you open your office until closing time. You deal with issues concerning staff, vendors, insurance companies, overhead costs and a host of other challenges. You don't have a ton of extra time. However, investing time now, to inform your patient of their treatment needs and cost will be worth every minute. You will see the dividends come back in the form of your patients trusting you, returning for their routine treatment, and bringing your office new patients through recommendations to friends and family. Speaking of new patients - check out our FREE new patient resources below to help educate your patients on common dental terms and anatomy!