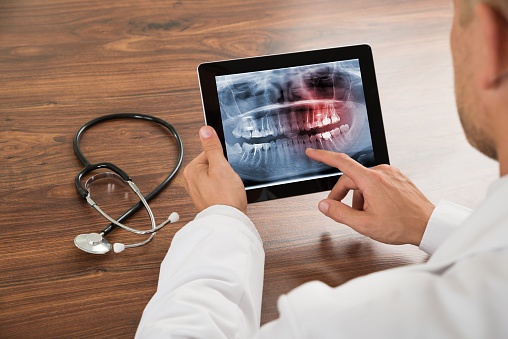 Teledentistry is revolutionizing the way dental providers meet with and treat patients. Accustomed to the traditional office setting, dentists are quickly adapting to provision of remote patient care by utilizing a variety of technologies to diagnose and plan courses of treatment.
What is teledentistry?
It can be as simple as live two-way video consultation with a patient, or as intricate as using live video to supervise procedures performed by a specially trained dental hygienist. Teledentistry can take many forms, including:
Live video: Two-way interaction between a patient and dentist
Store and forward: Recorded health information like X-rays, photos or videos is electronically transmitted to the dentist, who reviews the patient's condition at a later time for purposes of diagnosis and treatment recommendation.
Remote patient monitoring: Personal health and medical information is collected from an individual in one location then transmitted electronically to a provider in a different location, such as a nursing home or school, for use in care.
How can this expand your dental practice?
To start, you can attract and reach patients who might not otherwise physically visit your office. Teledentistry expands access to care for those living in rural areas without a dentist, or those facing obstacles like cost, time, fear of the dentist or unawareness of best practices for dental health.
Some states have adopted regulations to expand the types of treatments dental hygienists can perform without onsite supervision by a dentist, like temporary fillings. Therefore, hygienists can treat patients in remote locations and refer patients requiring follow-up work to the supervising dentist's office. Education can also prompt some patients to "wake up," take action and visit the dentist routinely.
As time goes on, more private insurers and government programs are offering reimbursement for remote virtual services.
Next Steps
If you are interested in expanding your practice with a teledentistry program, learn more about the fundamentals—from what equipment and training you'll need to HIPAA-compliance—through colleagues or other professional resources. Talk to your patients to gauge their levels of interest and comfort with remote dentistry.
This new practice will undoubtedly change the way some dentists will interact with their patients. As more states adopt these programs, you'll have increased opportunity to expand your practice—and patients will have more options for care than ever.
Want to join the Solstice network?
Connect with our dedicated provider relations team for more information about joining our network. You can call 1.877.760.2247 or email
Already in the Solstice network?
Search to see if you're part of the Solstice dental PPO or HMO network. You can also go to https://www.mysolstice.net/ or call us at 1.877.760.2247.