Whether you are looking to track your fitness progress, check traffic on your way to work, or even monitor your blood pressure, it seems like there is a mobile app for nearly everything. And if you're involved in the world of dentistry, you'll be happy to know that the profession hasn't been overlooked as far as these mobile apps go.
There are plenty of apps available for both dental professionals and students, each one ranging in functionality and price. The volume of apps is actually quite large and covers just about every dental-related issue you can think of, including surgical advice, drug references, diagnosis assistance and even tools for reading X-rays.
Tablets are now quite common and heavily used as academic and professional research tools. It's becoming the norm for dentists to utilize an iPad or their very own smartphone to stay on top of their practice and better serve their clients.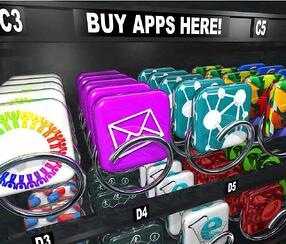 Image Courtesy of ShutterStock
Whether your tool of choice is a smartphone or tablet (or both!), there are plenty of ways in which you can utilize either device to expand your practice and/or manage your growing business.
You can spend a lot or none at all, but here are some of the apps you'll want to consider, depending on your budget:
1. ePocrates
This app is essentially an updated reference library containing information about dental drugs, formulary information and interaction checkers.
Their product also provides several different versions, some of which come with features like information on disease diagnosis, image guides, diagnostic tests and a medical dictionary. Since the information is regularly updated, the app is sold in yearly subscriptions ranging from $99 to $199.
It's pricey, but you will definitely be getting your money's worth.
Sold in the form of a yearly subscription, Lexi-Dental Complete is the most robust and expensive of the Lexi-Dental apps available. As you scale down on features with the other versions of the app, such as Select, Suite and Drugs, the yearly cost gets cheaper.
Thousands of color radiographs, photographs and images are available to go along with diagnostic and patient education resources. This is a versatile app that can be used by both your team of professionals as well as your own patients. While your patients are receiving treatment, this technology will surely pique their interest and show that your practice is cutting-edge.
The Complete version of the app provides a dental pharmacology database along with drug, herb and food interactions. It's truly one of the most complete dental applications available and certainly should be for $285 a year.
This app is designed to allow dentists to quickly lookup scripts that will help them diagnose and treat their patients' oral diseases and symptoms.
It's designed by a dentist based in Australia, so when reading dosages, you'll have to take this into consideration if you don't live there.
4. Tooth 3D
This app gives you a high quality collection of 3D tooth, pulp and root canal system models. You should note, however, that the .99 price tag is a bit deceptive. The models are good, but you need to pay an extra $15 once you're in the app itself to unlock the 30+ models of teeth. It would be preferable if they just charged $16 for the app up front. However, if the models would be helpful to you, it's worth the investment.
The Virtual Dentist is a professional dental application that allows you to upload a picture of your own (or someone else's) teeth and then perform a variety of virtual dental procedures. You get photorealistic representation of braces, fillings and the ability to move and reshape the gum line of the photo. Imagine the power and impact of showing your patients their new smile!
There's also a professional licensing option for dentists; otherwise the app is $2.99.
6. OralEye
Like Lexi-Dental, the OralEye app can be used by both dentists and patients.
The great advantage about having this app is that you'll have a much more efficient way of communicating with your patients, as well as streamlining new patients. As a dental professional, you'll be able to give your patients the convenience of scheduling a consultation before they arrive at your office. You'll also have the ability to send them important reports from nearly any device.
Patients that utilize this app will appreciate how simple it is to set up a dental consultation, a feature that's available 24/7 with OralEye. They'll also be able to determine whether or not their dental issues can wait to be addressed if the problem is not pressing. If the dental issue is an emergency, patients can easily find local treatment. New dentists are frequently being added to the app as well, which gives patients many more options.
Volume of Dental Apps
The sheer volume of dental applications available really speaks to the emergence and strength of the tablet and smartphone market, as well as the swift response of developers. It's just a major part of how the medical community is informing themselves right now.
There are even apps that can help your patients care for their own dental hygiene. ZocDoc is one such app that assists patients in finding the right dentist/doctor for them. They'll be able to read patient reviews, determine available appointment times and book right from the app, and view a map of health professionals that are in the patient's insurance network. And it's free to download and use!
For those who are quite adamant about perfect dental hygiene, there is also the Beambrush app. The app is for the the Beambrush product, which is the first Bluetooth-equipped toothbrush that monitors how well and how long you brush those pearly whites. While you are brushing or once you have completed brushing, the app will sync the brush with your phone so that you can view statistics of your brushing habits.
If you're in the dental field and find yourself attached to your tablet and smartphone, there's no shortage of apps available to allow you to do more of your work in that manner, while also bringing new technology to your customers.
Today's guest blogger is Virginia Cunningham, who is honored to have had another opportunity to share her knowledge about the world of dentistry, and how these five apps can help those in the field. In collaboration with HostPapa, her writing also sometimes covers the tech industry, including online marketing, green web hosting and SEO.