Dental offices can be seen as anxiety-provoking environments for patients who have an extreme fear of the dentist. These patients can be challenging for dentists and office staff. The following tips for handling difficult patients can help improve overall patient care.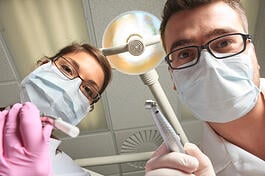 Listen and communicate effectively. One of the most important aspects in interacting with a difficult patient is to listen and communicate. Many patients are really just looking for someone to listen to their concerns and communicate with them on their level. They want to be reassured, and they want to know that their concerns are being heard and understood by their chosen dental professional. These patients often need nothing more than to feel validated and empathized with.
Listen to your patients' concerns, and speak calmly and in terms that are easy for them to understand. Above all, reassure them that you care about their concerns. Let them know that you want to address and ease these concerns during the current treatment and in future treatments.
Explain the procedure before you perform it. Don't surprise them. Explain what you're doing in a calm voice. Once the procedure is over, go over what you did and what was accomplished. This will enable the patient to understand the complete process and deepen their comfort level going forward.
Pay attention to what patients say and how they react. Dentists with challenging patients can often lessen anxiety before it has a chance to develop by paying close attention to patients' body language. For example, if a patient is gripping the chair tightly and squirming nervously, it's going to be very difficult to get him or her to open his or her mouth. Let patients know that they are in control. Ask them regularly if they're doing okay throughout the procedure, and ask them if they need to take a break. This will allow them to feel some control over what's happening; dental anxiety can often be attributed to the sensation of losing control over what's happening in a very sensitive area.
Maintain a professional image. Display any awards, diplomas and accolades prominently in the office. This will give patients the peace of mind that you know what you're doing, and you're not going to let anything bad happen to them. They will feel safer entrusting their oral care to you and feel as though they're in good hands. This can go a long way towards establishing a feeling of trust and security and allowing them to progress towards being more comfortable at your office.