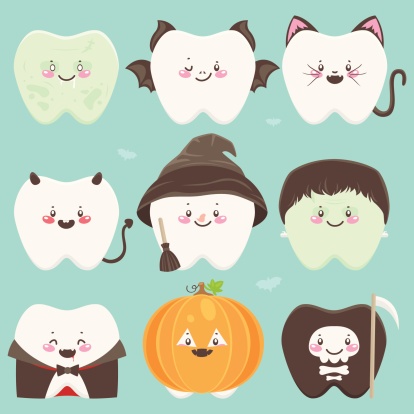 It's tricky to uphold your dental responsibilities when your patients are getting excited for all the Halloween candy they are going to get; it's only natural to want to participate. So what do you give your patients for Halloween? We've compiled a list of fun options that stay away from unhealthy treats or potential allergies, while still maintaining the Halloween spirit:
Halloween Accessories: Keep the spirit alive by offering your patients a themed accessory
Vampire teeth: S

how some proper flossing techniques using some scary vampire teeth.

Eye patches: Hel

p your patients see what it's like to be a pirate with an eye patch.
Spider rings: Add an extra creepy factor and have your patients pull these rings from cobwebs.
Halloween Themed Games: Keep the kids away from television, computer and phone screens with some tricks instead of treats:
Maze puzzles: work on some coordination by giving your patients a Halloween maze challenge.
Orange or black playdough: encourage imagination and have your patients create all sorts of ghosts and goblins out of their playdough.
Temporary tattoos: offer temporary rebellion by giving out some temporary tattoos.
Halloween Themed School Supplies: Elevate school or work with some holiday themed supplies:
Stickers: Witches, ghosts and vampires all make fun options for stickers.
Erasers: Extra motivation to work hard to avoid wearing down these Halloween shaped erasers.
Pencils: Doing homework just got more fun with some festive writing utensils.
Whatever route you choose to take, you don't have to sacrifice fun to participate in all of the Halloween festivities—treats don't always have to be candy! Spruce up end-of-visit giveaways by adding one or more of these themed items to surprise and delight your patients.