It is estimated that 100 million or more Americans snore and about a quarter of them suffer from Obstructive Sleep Apnea (OSA). OSA causes both physical and emotional issues that go beyond just the patient, but impact the entire family. Symptoms that are experienced as a result of OSA and Sleep Disordered Breathing Syndromes (SDB) include:
Snoring
Daytime sleepiness
Poor quality of sleep for patients and family members
Irritability
Headaches
Difficulty concentrating
Low energy
Depression
Memory issues
Dry mouth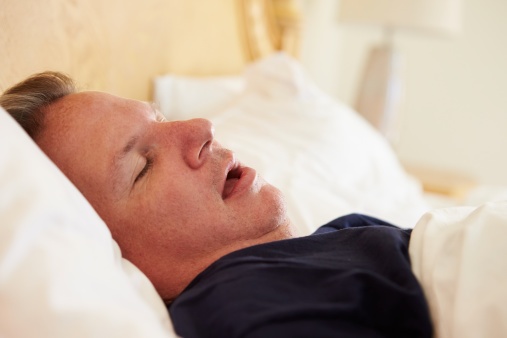 The American Academy of Sleep Medicine estimates that over 80 percent of OSA and SDB cases are not diagnosed and therefore not treated. Dentists (as well as hygenists)have the ability to help identify sleep-breathing problems so treatment can be initiated. Risks increase with the following:
Age
Gender (more likely in men)
Higher body mass index
Larger than average neck circumference
Overlarge tongues
Small airways in the nose, throat or mouth
Insomnia sufferers
History of snoring
Difficulty breathing (gasping for air)
Lifestyle (smoking and alcohol use increase risk)
Many adults visit the dentist twice a year and don't see a doctor at all during a year. Therefore, a dentist that asks questions about snoring may be able to identify a problem first. Dentists can identify physiological changes during the exam or by viewing the X-rays to aid in the OSA diagnosis. They can also look for patients that have trouble opening their mouths wide during exams or who fall asleep in the chair. A few questions dentists can ask during the exam to help identify patients that need a referral for sleep-breathing problems include:
Does anyone in your family snore?
Do you have issues falling asleep or staying asleep at night?
Do you have a family history of OSA?
Do you often feel tired during the day?
Do you experience any jaw, neck or shoulder pain?
Dentists already screen for medical conditions such as oral cancer. They can encourage patients to get the help they need in this situation as well. Dentists can look for the following dental signs of sleep apnea:
Jaw pain (recent studies have shown that TMJ is often caused by sleep apnea)
Cracked or broken teeth
Jaw clenching
Pain when chewing
Worn front teeth
Complaints of frequent headaches, neck or shoulder pain
The connection between dentistry and sleep-breathing problems is relatively new, but follows a long history of dentists and physicians working together for the health of patients. Educating dental patients about sleep issues, and working with them to identify if they need to seek treatment, will provide an important benefit.