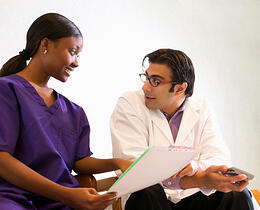 Working in a dental office with the same people day in and day can sometimes lead to tension. Issues such as personality clashes, misunderstandings, work ethic and lack of communication will arise and it is important to be an arbitrator, not an instigator. Properly managing conflicts in your dental office will help these issues be contained and lead to a positive environment for your staff and your clients.
When controversy is left unresolved, feelings of dissatisfaction, exasperation and low morale can quickly foster. This will begin to affect employee's work and, eventually, the patient's experience will suffer. Dealing with issues as they arise will prevent such negativity from spreading. If managed correctly, conflict resolution could also cultivate creativity, improve relationships and bring unresolved issues into the open.
Sharon Dolak, RDH, ADR specialist, works with dental teams to teach them proper conflict resolution. She recognizes that conflict can occur for many reasons and often office managers and dentists could be unaware that a conflict even exists. Here are some things to look for:
Different communication styles can be perceived as poor or complete lack of communication. The same goes for different management styles.
Co-workers with different values and interests can develop a lack of understanding and acceptance of such differences.
Another common issue is attitude. Two 'big' personalities tend to clash due to having the need to compete for anything - attention, resources or a promotion. This one in particular, when managed correctly, can be turned into positive conflict. Healthy competition can lead to employee betterment.
The opposite of competition is lack of work ethic. One employee could be complaining that a co-worker never does their share of the work. So it either gets completed by someone else, or goes undone. This will lead to a back up of paperwork, and no dental office needs that.
Here are five techniques in conflict resolution.
Active listening - Give the person speaking your undivided attention. After they have finished speaking, summarize what they have said so they know you were listening and understand where they are coming from.
Control the pace - When things begin to get heated, keep a level tone in your voice. This will help calm them down so you may continue in a productive manner.
Compromise - Neither party will get everything they want. But that is part of the resolution. One must give in order to get. Point out how accommodating each side is being.
Shift blame - Putting the blame on yourself is a good way to ease a bit of the tension. Take blame for any misconception that occurs during the mediation.
Give praise – Ensure your team members feel valued during a conflict and assure each party that they are getting something they want out of this session. Also remember to thank each person as they come to an agreement for the other.
Every situation is different and be sure to hear both sides of the conflict before making a decision. Effective dental office conflict management takes a lot of patience, positive attitude and a lot of practice. Arm yourself with the right tools and you'll be on your way to a peaceful and productive office in no time.