"Excited" is usually not a term used to describe someone's emotions when they need to visit the dentist office. Sometimes, people associate going to the dentist with extended periods of time in the waiting room, unpleasant staff and a painful mouth procedure. Well – don't let that stereotype be the case for you! We've compiled a few ways on how you can enhance your practice and put the enjoyment back into your patients' visits. Here are five ways to make your dental office fun right now:
1. Hire a fun staff.
The success of any business starts with the employees. Specifically in a dental office, these are the first people your patients will see when walking through your door. No one wants to be ignored or to feel like a number whenever they step up to the desk. A friendly smile and a warm welcome is a front desk requirement. It might be a good idea to have some kind of criteria for personality when you're hiring your staff. Maybe you want people who are easy conversationalists, or have a sense of humor? Whatever characteristics you think your patients would find most enjoyable and comforting, hire people who meet those standards.
2. Provide a source of entertainment.
If you have nothing available for your patients in your waiting room, chances are their wait times are going to feel longer than what they really are. You could take the easy route and just put out a few magazines on a coffee table. If you want to go a little further, a television is always a good, easy source of entertainment which eases the waiting blow. Some offices play soft music, others (especially children's dentists) have games and toys available for their patients. The options are many and the choice is yours.
3. Give goody bags.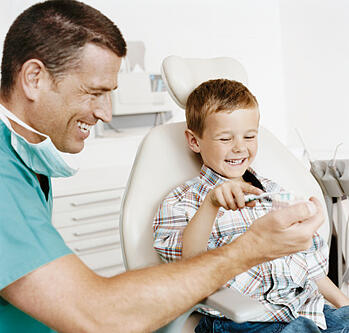 Most dentists already do this, but if you haven't, now is the time to start. A new toothbrush, small tube of toothpaste and roll of floss will not only encourage your patients to keep practicing good oral hygiene, but also make them feel special. They'll know you cared enough to give them something to walk away with from their appointment. Besides, who doesn't want free stuff? If you have the capacity, have a treasure chest of little toys for the kids for after their check-up – it'll make a world of a difference.
4. Make an app!
Not everyone will be able to do this, but it is possible, and will make you stand apart from the rest of the dentists on the block! Most of your patients have smart phones and are on them quite often. How cool would it be to create an app they could download to their phones to schedule appointments, view their visit history, maybe even play a few games while in the waiting room? There are endless possibilities when it comes to technology. It's up to you to determine if this would be an investment worth pursuing based on your clients.
5. Create a lively atmosphere.
It's probably one of the easiest, and most enjoyable things – for both your staff and patients! For starters, make sure you have some color in your office. No one likes to stare at boring white, bare walls. Adding pictures of patients to a board on the wall could be one way of livening the room up. If you're not into pictures, try painting the room or putting some paintings up to give it color. You could also try putting fresh flowers or plants in the office—always refreshing touches. Last but not least, embrace the holidays and festivities your patients are passionate about! Decorate for holidays and special events. It will help get your patients' minds off of the reason why they're at the dentist and allow them to think about lighter, happier things.
Pretty simple, huh? If you haven't put any of these into practice yet, now is the time! We can't guarantee that your office will be everyone's new favorite hangout spot, but we can assure you that your patients will appreciate the effort and time you've taken to make them feel comfortable – and that alone with retain your clientele and bring new ones through your door.