March is Workplace Eye Wellness Month, which is a time to raise awareness about standard eye safety protocols, review training for employees that involves eye safety in the workplace and double check that Occupational Safety and Health Administration (OSHA) requirements are being met by places of work. As an eye care provider, t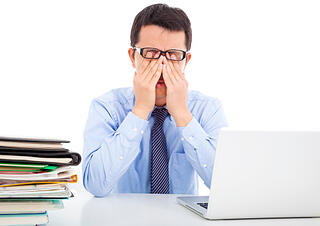 his is a good time to talk with your patients about keeping their eyes safe at work.
When people think of workplace risks to eye health, most think of jobs that involve chemicals or power tools. Everyone has seen the eye-wash stations and safety goggles that help protect eyes in these types of jobs. However, as you know, just working at a computer screen can cause eye strain throughout the day. Your patients may not know this.
Remind them to follow the 20/20/20 rule when working on computers. Every 20 minutes, they should take a 20 second break, look away from their computer screens and focus on something at least 20 feet away. Doing so can help patients prevent eye strain. Also, remind them to blink often when using computers and other electronic devices.
You can also use eye wellness month to educate your patients and employees about specialty glasses they can wear while working at a computer to prevent eye strain. Display computer eyewear prominently in March.
According to the American Optometric Association website, "The National Institute for Occupational Safety and Health (NIOSH) reports that every day about 2,000 U.S. workers sustain job-related eye injuries that require medical treatment. However, safety experts and eye doctors believe the right eye protection can lessen the severity or even prevent 90 percent of these eye injuries."
As an eye care provider, you can lead the way in eye safety in the workplace, by reviewing your OSHA compliance and training every March during Workplace Eye Wellness Month. You can also help educate your patients. Simply asking them what steps their employers have taken to make sure their eye health is a priority at work opens up a conversation where you can help them advocate for eye safety in their workplace.