Dental patients often have to overcome feelings of fear and anxiety to make their appointments to see a dentist. Your chairside manner can go a long way towards assisting patients to feel welcome and even comfortable.
Here are the top five dental chairside manners most likely to calm your dental patients and keep them coming for return visits.
1. The greeting

By the time you enter the room, is the patient's chair lowered, with the patient bibbed and surrounded by instruments? Do you enter quickly and toss your greeting over your shoulder as you head for the box of gloves? Greet the patient by name, using eye contact and a smile. When you turn on that overhead lamp, ask the patient if the angle is primarily out of his or her eyes or offer dark glasses.

2. The ice-breaker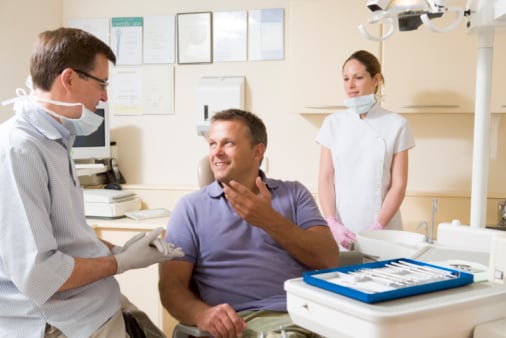 In the case of new patients, you might ask a question about past experiences with dentists. Do they have fear of the dentist? Be sure to keep your question neutral and open-ended. In the case of regular patients, ask an open-ended question about whether they have any news that might relate to their visit—about their teeth or any other aspect of their health.

3. Talk to the patient

Even when there is a dental assistant in the room, talk to the patient, not just to the assistant. The patient will appreciate knowing what your next clinical step is and how it may feel, for example. You might inquire whether the patient feels okay if you hear nothing back, or ask whether he or she would like a break in the case of longer procedures.

4. Pay attention to the patient

It's not always easy to stay focused on the patient, especially when the visit is routine. But, it is a key chairside manner that has a significant effect on the patient's willingness to have regular dental checkups.

5. Establish signals

Once there are instruments in the patient's mouth, it is difficult for the patient to let you know when he or she is especially uncomfortable. Before you get started, establish signals with the patient that enable him or her to communicate fear, pain or other discomforts. Use signals that the patient clearly understands and can utilize easily.

Being a great dentist goes beyond dental medicine skills. It includes your willingness and ability to incorporate these five chairside manners to keep patients returning to maintain their dental health.