Chances are you've walked into someone's house that was less than…clean. Perhaps the carpets were faded and dingy; or there was a musty, stale smell. Did you feel comfortable? Was it somewhere you'd want to return if you had your choice?
Didn't think so.
Well the same goes for your dental practice. Is it time to spruce up your waiting room? What perception do you think your patients will have if they walk in and your office looks like it hasn't been updated since the 1980s? Aesthetics definitely matter when it comes to your waiting room. Patients are a captive audience; they will sit and look around while waiting for their appointment to begin—and they will judge you! You want to send the right message.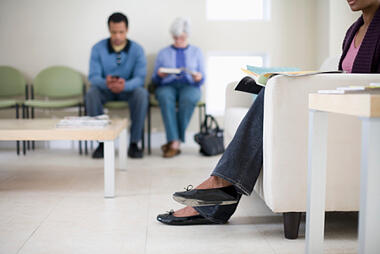 Colors. Do you have wallpaper on those walls? Rip that down…immediately! An outdated look with busy patterns not only looks tacky, but patients may think your skills aren't up-to-date, too. All white walls are disconcerting, as well. Stick with neutrals—creams, greys, shades of tan, browns. Light neutrals give an airy, open vibe while darker neutrals can feel warm and intimate.

Lighting. Do you have blindingly bright fluorescent lights illuminating your waiting room? Of course it's the most efficient way to light the space but…it's not very inviting. Perhaps try floor and table lamps. This can make your waiting room look soft, relaxed and comfortable.

Reading materials. Do you have shabby, old magazines from four years ago on your waiting room tables? Clear those off and regularly replace with new magazines that both women and men would enjoy. You can place dental health and wellness brochures and information about your practice around the room, as well.

Seating. Do you have fabric-covered chairs that are threadbare and stained from years of use? Nobody wants to sit on that. Your chairs should be comfortable and clean; they should also not be too low in order to accommodate patients of all ages and conditions.
There are other things you should consider when it comes to your waiting room: no clutter, modern, perhaps some soft music. And no matter what, make sure it is sparkly clean. This puts patients at ease that their mouths are in capable—and sanitary—hands.