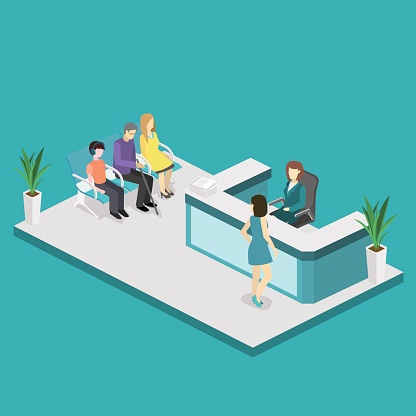 First impressions mean a lot, and the front desk is the first place your patients go when they enter your dental office. An energetic, efficient and friendly staff will always beat distracted, grumpy or idle in your patients' minds.
When your patients visit you to stay on top of their oral health—which often means missing time at work or school—the experience should be as positive as possible. And that experience starts and ends with your dental practice front desk. After all, root canals aren't fun, but your office can do its best to make the rest of it more pleasant.
Here are five ways your front desk can help your dental practice.
Smile. It sounds simple and obvious, but it could be the most important item on this list. A friendly greeting will make patients feel at home. The last thing you want a patient to feel is that they're a nuisance or not a priority.
Be transparent. No one likes to wait on scheduled appointments, but we all know that things happen. If things are running behind, front desk staff should inform patients of delays at the time of check-in and offer convenient rescheduling if needed. Honesty and proactivity will "soften the blow."
Make it easy. Front desk staff should encourage patients to schedule their next appointment before they leave the office. Cleanings are typically months apart, but no one wants to have to remember to call. (It's also a smart business practice to "lock it down" and book appointments in advance.) Another way to make life easier for patients is to implement a text message confirmation system for appointment reminders and patient confirmation. With how busy we all are these days, returning a confirmation call or leaving a voice message is one more thing to do.
Work the phones. First impressions matter. We've heard that saying for years. It's worth looking at your receptionists' process for handling new patient inquiries over the phone. Is it convenient and fast for a prospect to make an appointment? Yes, it's crucial to record insurance information, but don't leave anyone feeling like a number. Return voice messages within the same business day.
Aesthetics. Dim and cold or bright and warm? Keep your front desk waiting area in step with the latter, and your patients will embark on a positive experience as soon as they open the door and walk in. Warm colors and lighting, plants and flowers can all give visitors a proper welcome. Refresh magazines and brochures often. In 2017, a patient doesn't want to read a Newsweek from two years ago.
Of course, execution of these tips will work best if your office staff are motivated and engaged. Good communication, open feedback and staff huddles are all ways to foster a positive work environment.