Having a thoughtfully designed and comfortable dental office is a large step in the effort to please patients. While your office is your workplace, understand the experience of someone entering as a patient seeking treatment.
Here are a few ways that your dental office environment can impact the quality of your overall patient experience.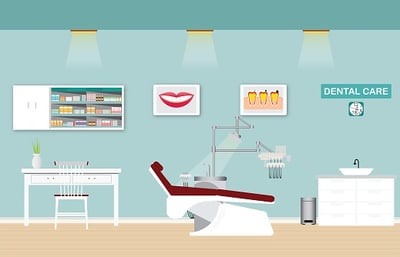 Let there be light
Natural light is calming and is believed to elevate mood, but it's not possible to have a window in every room of your office. Try using different kinds of lighting in the appropriate setting. Your treatment rooms certainly require different light than the hallways, reception and check-out areas and the waiting room. Break free from traditional fluorescent lighting.
Clutter-free zones
It's important to educate your patients about their teeth and oral health issues, but keep brochures and posters to a minimum to avoid an over-cluttered, chaotic—and perhaps overly clinical--appearance. Streaming information on a television monitor works very well to not only keep your clientele informed, but to provide a modern feel. If you provide magazines, purge them regularly and only display current issues.
The best seat in the house
It's impossible to overstate the importance of seating for your patients. If they do experience a wait, make sure they aren't spending it in an uncomfortable chair. Seats with pads and movable armrests go a long way. Consider arranging the waiting room seating in clusters, if space permits. This allows privacy to patients who desire it and can be a buffer for parents who have active children. This doesn't mean that you are encouraging patients to be antisocial. It might, however, provide a relatively quiet space for a patient who is experiencing pain or anxiety.
Show them your pleasing personality
What is your office's personality? Is it warm and friendly, or modern and cutting edge? Or something else entirely? Regardless, be sure to introduce yourself through your office décor. Displaying pictures of the dentists practicing in the office is especially helpful to patients visiting for the first time. Candid staff pictures displayed around the office will create a friendly atmosphere.
As for wall art, images that reflect the more appealing aspects of your geographical region are a safe bet. This is especially helpful in offices that lack windows with pleasant views. Pictures of nearby beaches or mountains or other geographical attractions can evoke fond memories for your patients or take their minds off the procedure at hand.
Walk in your patient's shoes when implementing special touches to your office. Your efforts will go a long way.