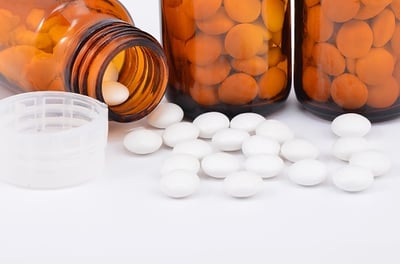 "My work is my signature." It's a phrase dental providers would say in a heartbeat because they understand that the quality and longevity of the work they do for patients reflects them as a professional. Bottom-line, great work is better than any business card. And this applies no matter your specialty. If you are a dental provider who does implants, you want to know the ones you install have a great success rate and your patients get the smiles they desire. Therefore, it's important to be aware that certain medications can impact the success of these artificial tooth roots. An example is antidepressants. A recent study at the University at Buffalo School of Dental Medicine shows a strong connection between failure of dental implants and taking this type of medication.
Can Dental Implants Fail?
The study showed that patients who used antidepressants are four times more likely to have implant failure. And for each year that the patient takes the medication, the rate of implant failure doubles. What's more is that previous studies have come to the same conclusion.
After examining 74 patients who received implants between January and August of 2014, the retrospective study showed an average implant failure rate of five percent. They found that of the patients who had implant failure, 33.3 percent of them took antidepressants. For those who did not have implant failure, only 11.3 percent of them used this type of medication.
Other side effects of this drug, that are a source of concern for dentists include:
Osteoporosis – Causes weak and brittle bones
Xerostomia – Another term for dry mouth
Akathisia – The need to be in constant motion; also causes extreme clenching of the jaw
Bruxism – Unconscious grinding or clenching of the teeth
These conditions all impact a patient's oral and bone health, an important factor in the success of an implant.
Drugs that help to manage moods, emotions and pain are one of the top most prescribed meds in the U.S. And as the prescription of this medication grows, so has the use of implants, illustrating the need for further research in this area.
As a dental provider, you want your patients to be healthy. You are acutely aware of the connection between their dental and overall health. Plus, you know that a great reputation is priceless and impacted by the success of your work. So, keep in mind that researchers are not suggesting that providers stop recommending antidepressants; they are not suggesting that patients stop taking their medication. What they are stressing is that patients, dentists and physicians all need to be aware that there is a connection between frequently using this type of drug and the failure of a dental implant. Providers, especially those who perform implants, will want to speak with their patients who may be using these types of meds and discuss a plan that will ensure the best outcome.