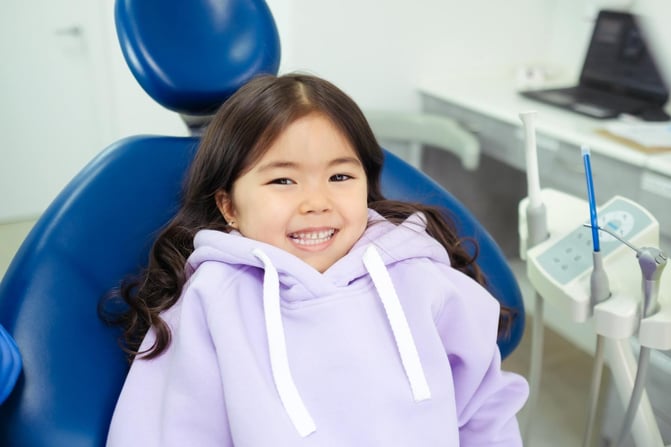 The start of fall means one particularly important thing to kids and parents… it is a new school year! So now is the time to welcome them back to the dentist. You can send out back-to-school-themed email blasts or appointment reminders for child dental visits.
Most importantly you will want to make sure your practice is child ready. Find out how you can cater to your younger patients and why doing so can leave an impression and even make want them to come back.
Key takeaways:
You can cater to your younger patients in the office and the dentist's chair with child-friendly techniques.

Making child dental visits pleasant can

drive traffic

to your dental practice.

You can foster a strong rapport with parents and their children, to encourage return visits.
Regular dental visits are important year-round, but when school starts, it becomes even more important to focus on healthy smiles; some schools even recommend pre-start dental checkups. Here are eight tips to make child dental visits more pleasant (plus three ways to keep young patients coming back).
8 tips to make child dental checkups enjoyable
Many children do not like going in for visits and may even be afraid of the dentist. So, we encourage you to keep your practice child friendly. By doing this, you can redirect their attention and create a pleasant experience that they will remember. Show your young patients that taking care of their smiles can be fun by using these eight simple tips:
Decorate your office for back to school: Kids love to be surrounded by fun shapes, bright colors, and creative scenery that sparks their imaginations. Try decorating a room used for children's visits in a fun theme like "under the sea" or "outer space" to spark excitement as soon as children arrive.
Have your staff dress up in fun costumes: You can start with office decorations – then get your staff in the spirit with fun costumes, silly hats, and funny props to put a smile on your patients' faces. Office staff can create weekly themes like "pajama party week," "circus week," or "wacky week," – all sure to get a giggle out of your young patients.
Get your local area schools involved: Starting a sponsorship with a local school is a terrific way to support education and promote your practice. It also gets kids excited for their back-to-school dental checkups. You can advertise your practice in the school newsletter or sponsor a school sports team to get students and families in the spirit to take care of their oral health.


Show kid-friendly movies on office TVs: Putting on movies or cartoons can help entertain patients at their checkups. It is a straightforward way to put them at ease and distract them from any stress or fear they might experience before their exams.
Play fun music in the waiting or exam rooms: Much like showing cartoons and movies, playing fun music can also help soothe kids before their exams and promote a sense of fun.


Get to know your little patients: When it comes to kids, it is important not to skip the small talk. Make sure you are introducing yourself upon entering the exam room. And reacquaint yourself with your returning patients. Take the time to ask them about their summer vacation and what they are excited about in the new school year. Getting them talking will help their brains focus on positive thoughts and can put their minds at ease before a checkup or teeth cleaning. Avoiding terms that are associated with stress like 'hurt' or 'drill' is also important.


Offer fun incentives for back-to-school visits: Prizes are a wonderful way to encourage kids to get excited about the dentist. Offering a fun back-to-school prize like stickers, toys, or coloring books can get younger patients excited about coming in.


Use exam time to educate your young patients: Kids are naturally inquisitive, and like adults, they appreciate knowing what is going on. It is important to nurture and encourage their questions. Keeping children informed of what their visit will involve can help build trust and make them feel safe. You can even bust out some fun diagrams and teeth molds.
Keep your child patients coming back all year
Welcoming kids back to the dentist is a suitable time to educate them on the importance of good dental health all year round. Here are a few ways to promote patient retention and keep your younger patients (and their parents) coming back:


Call them by their name:

Remembering a child's name makes them feel important and can make a significant impact on their desire to return. Make your child patients feel special by always greeting them by name with a big smile.

Send a special birthday message:

A child's birthday is a joyous time and by remembering to send them a birthday card or email message, you can help leave an impression.

Promote a special dental office ritual:

Encourage return patients with a fun ritual that your patients that they can look forward to next time. You can offer fun stickers or coupons from local businesses. It can also help you further connect with your local community.
There are many ways you can cater to your younger patients. You can put a child's mind at ease while helping them achieve a happy healthy smile. At Solstice, we share the same mission as you, to improve the lives of those we serve. Let us bring more patients to your door.