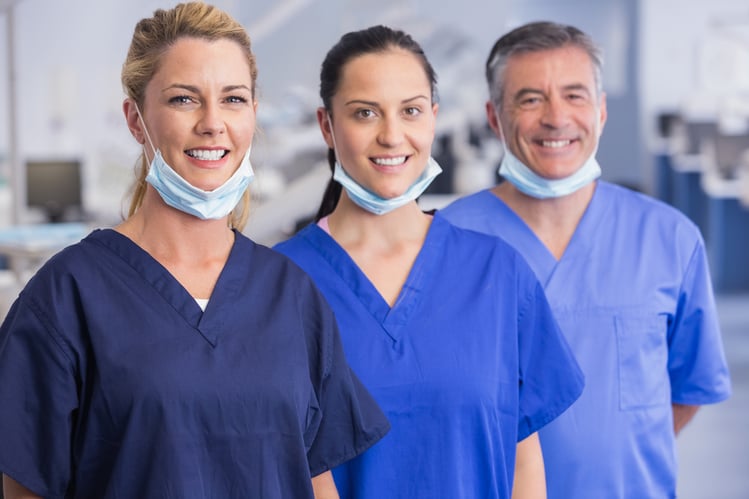 A healthy tree grows tall and strong because it has deep roots. The deeper and stronger the roots, the taller the tree can grow. As a dentist and business owner, you want your dental office practice to flourish and grow. This means increasing your patient base, by attracting new ones and retaining current ones. It means investing time in improving your clinical skills and keeping them sharp. However, effectively managing your practice is an important part of the success equation. Think of it as the root of your tree. So, here are a few office management tips for dentists that work:
Front Desk Personnel
Your practice begins and ends with your front desk. A poor first impression will render your best marketing plan impotent. A great first impression should be your priority in any marketing plan. Here are a few reminders:
Front desk personnel need to be courteous, professional, and portray an unhurried manner. On the phone, patients need a sense that the professional they are speaking with has their interests in mind—that they are not rushing through the conversation so they can get to something they feel is more important.
When answering the phone, dental office personnel should use the name of the practice, the name of the dentist, and, finally, give their name.
Collect patient emails with the purpose of communicating scheduled appointments and other pertinent information regarding your practice.
Communication
Communication is so important that the presence or lack of it impacts the success of relationships within families and within a business. A dental office has to communicate effectively among the members of its team, and with patients. So be sure to implement or continue practicing the following:
One 5-minute face-to-face meeting can accomplish more that several emails. Get your staff together prior to opening and discuss issues from yesterday, today, and tomorrow to create a cohesive team environment.
If you are a practice management organization, be sure to keep your staff up to date on the organization's plans and new laws or dental industry trends that may impact them.
Review patient charts and look for opportunities to save patients a trip by identifying those who already have appointments, and offering them the opportunity to get in a hygiene appointment.
Listen to your patients' stories. They all have one. It will help you understand their needs and allow you to better serve them. For example, you may want to offer a patient an implant option but based on conversations with the patient, they may be happy with dentures. Be sure to listen.
Financial Policy
In addition to communication, another hot topic that can negatively impact personal and professional relationships is money. In fact, lack of cost transparency is one of the criticisms currently plaguing the healthcare industry. With that in mind, here are some financial guidelines:
Have a written financial policy signed by all patients.
Make all payment options clear and adhere to them.
Offer incentives to patients who pay early.
Be sure the patient gets a copy of the policy.
Don't see the patient until payment arrangements are understood.
In order for your office to grow and be successful, you have to make sure that you are implementing tried and true practices. Good practice management habits are at the root of your office growing and being successful. Effectively managing your office and its interactions with both employees and patients, is a vital step in positioning your office to successfully serve the needs of your patients, and thrive as a business.
Related Topics:
Effective Dental Staff Meetings, Key to a Successful Dental Practice
5 Ways Your Front Desk Can Help Your Dental Practice
Keep Them Coming Back for More: Five Tips to Improve Patient Retention