Does your dental practice monitor what your patients are saying about you? If not, you need to start today. According to Yelp, 92 percent of people ask family or friends for recommendations, but over 70 percent will read consumer reviews before selecting a service or professional, such as choosing a dentist. With social media, people readily share their experiences--good or bad--with online friends. Having a strong presence on review sites can be a major influence in building your practice.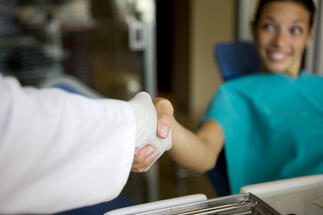 There are numerous patient opinion sites: Angie's List, Yelp, Google, HealthGrades and ZocDoc are examples. Dental IQ reported the results of an analysis of dental review sites and reported some interesting findings:
Quality of care is the No. 1 information people search
Accuracy of diagnoses is a major factor for potential patients
Years of experience ranks slightly ahead of certifications
Less than 10 percent of people consider gender of the dentist
Don't neglect opinions about the administrative aspect of your practice:
Office wait times is a concern for all ages
Billing procedures can cause patients to avoid a practice
Friendliness of staff and general appeal of the office are factors
Even poor reviews can benefit your practice:
You can directly address the comments on the website, showing that you are concerned and focused on great client service.
You can actually change how your practice operates, and improve your online reputation.
Your website can be updated to reflect your reviews
Avoiding online patient review sites can hurt your practice. Check your competitors and read their reviews. This will give you an indication of some things you and your staff may want to do.
Suggestions to get you started today:
Make sure your information on the review sites is accurate: address, phone, hours, website.
Ask current patients to leave reviews. You know you have satisfied clients, so ask them to take a few minutes to let others know.
If your staff is too busy, consider contracting with a service that will monitor the review sites for you.
Do you know what patients are saying about you? Monitoring patient opinion sites should be a regular part of your dental practice.