The famous "word of mouth" business approach has been around for centuries. Whether you were a bread maker, dressmaker, tailor or a dentist, having satisfied customers who told others about your quality products and great service was the best way to get people in the door. As we fast forward to the present, we understand that a shift in the way we do business has taken place. The digital age is in full swing!
Today, it's important for businesses to not only have a physical location but a virtual one, too, because consumers today search for businesses, services and products online. This has given rise to websites where consumers get the opportunity to write or read reviews about the products or services they get from these businesses. And there it is. Word of mouth has now metamorphosed into what's now called an online review. This new "word of mouth" is not only being shared with a few neighbors; anyone in the world can see it, clearly demonstrating the power and importance of online reviews.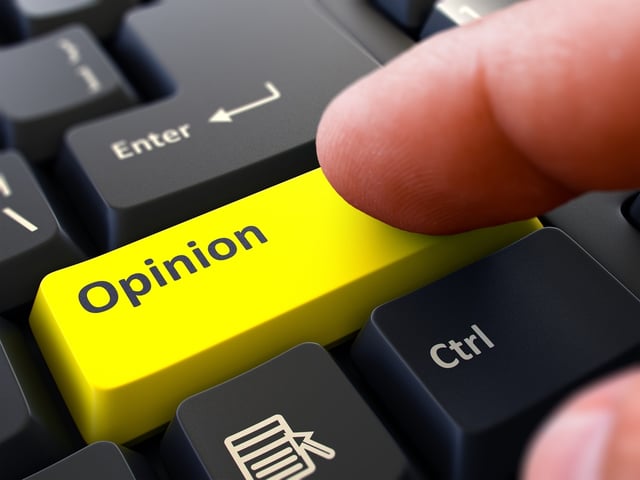 Why Online Reviews Matter
According to BrightLocal Local Consumer Review Survey, 84 percent of people trust online reviews as much as a personal recommendation. Other reasons why online reviews are important to your dental or vision office include:
Attracts or repels future clients. You can gain or lose a customer before they ever set foot in your office. Customers frequently try to get the 411 on your office before they visit. Reading what past and current clients say about your office and your services helps them decide if they want to become your patient. Normally, if most of the reviews are positive, this attracts patients to your office; if not, you're likely to lose a patient before ever meeting them.
Help market your business. Marketing your dental or vision practice is a necessity, especially when consumers have so many options. Online reviews are another tool you can use to get the word out about your practice. What's more, because it's not paid advertising, people trust it more. So, it may be a good idea to encourage your happy clients to do a review your office.
Educates you on how customers feel about your office. Running a successful office is a lot of work. You have to wear many hats. You are a business owner, a marketer, a manager and then some. But you also need to keep track of what patients are saying about your office, your staff and their experience. What are you doing right so you can keep doing it? What's going wrong? Have there been scheduling issues, misunderstanding with a staff member, comments about a less than clean bathroom? Consumers will be very open about these issues. While reading a bad review may not be the most pleasant way to find out what's going on, it's still a way for you to become educated about what your patients think, and take steps to make improvements.
Tips to Develop an Online Review Approach
Now that you understand the impact of the new "word of mouth," here are some tips to help you develop an online review approach:
Use multiple review sites: Your customers are all unique and use different sites. For example, some use traditional consumer sites like Yelp, industry-related websites such as Health Grades, or even social sites like Facebook. These sites give you greater visibility and they also give your customers choices. Keep in mind, some review sites frown on businesses asking for reviews; so, be sure to know the guidelines for each of these sites.
Establish a review acquisition system. Have a system to help you increase the number of positive online reviews, including testimonials. For example, you can include links and instructions on how to leave a review via your office emails, website, print material and more. Alternatively, you can use a service like Grade.us or GetFiveStars to help manage your entire review strategy. As you may be busy, it's a good idea to delegate the management of this system to a staff member or two.
Manage and respond to reviews promptly. It's important when you receive reviews or testimonials, to acknowledge them promptly. Treat the exchange like a conversation. If someone spoke with you or gave you a compliment, you would respond and thank them; not doing so would be considered rude. Plus, responding quickly and showing appreciation for their feedback will encourage more feedback.
4 Don'ts
Don't write reviews on behalf of your patients.
Don't use a third-party to write fake reviews.
Don't use a third-party to write reviews on behalf of your patients.
Finding Review Sites
Not all review sites are created equal. Having reviews on certain sites can increase your ranking with Google and other search engines, making it easier for consumers to find you online. Here are seven authoritative online review sites to get you started. Access these sites, and be sure to completely fill out your profile.
Online Review Response Tips
When you get a review, you have the golden opportunity to respond. With that said, it's a good idea to do the following:
Step back and think about the best way to respond, especially if the review was negative.
Keep in mind that current and potential customers are going to see your response.
Ensure the comment is customer-focused, professional, and consistent with your reputation.
Talk is cheap. A response that reflects true efforts to help the customer goes a long way.
Conclusion
As a provider, you've worked hard to build your business and clients. Remember, that while times have changed and we are in the digital age, one of the best ways of attracting patients to your office is still "word of mouth." The difference is that now, patients are doing it virtually, through online reviews and, therefore, it's reaching way more people than it used to. As a result, dental and vision offices can use this tool to build their reputation and reach more patients than ever before. On the flip side, if the reviews are negative, they can really hurt your office. So, don't underestimate the importance of online reviews and its impact on your business.