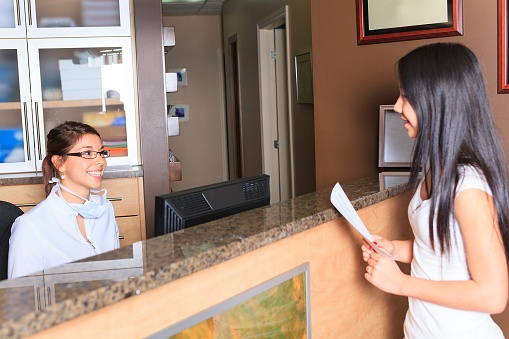 Are you finding that patients are visiting but not coming back to your office? Are you trying to figure out how to get them to stay? The heart of the problem could be your patient dental care experience.
"The customer experience is the next competitive battleground," according to Jerry Gregoire, former DELL Chief Information Officer. No, you're not a computer company. But this should matter to you because you're not just a dental care provider, you are also an entrepreneur or small business, competing for patients who have lots of options. And these days, all things being equal, how a customer feels when they visit your office, will be the tie breaker that determines if they choose you or another provider. So, the question is, what constitutes a great patient dental care experience and what are some ways you can deliver that to your patients?
A great patient dental care experience
Three important factors affect how a customer views their visit to your office:
Quality care: No surprise there. Providing quality care is one of the best ways to get and keep patients. Missing the quality mark in the digital age can be detrimental for your practice.
Encounters with your staff: A patient's encounter with your staff, be it negative or positive, will impact how they see you and if they come back to your office.
Cost transparency: Consumers are looking for affordable cost, along with cost transparency. High cost and lack of transparency are cited as two top reasons patients delay care.
Tips on creating an unforgettable encounter
Now that you understand some of the things that impact a consumer's overall view of your office, it's important to implement solutions that will improve your customer experience and raise your bottom-line. Here are a few tips and reminders:
Continue to do quality work; your work is your signature.
Take care of your #1 customer – your staff; how they feel about how they are treated in your office will overflow in how they treat patients.
Provide training and resources for staff on how to deliver excellent customer service.
Ensure your staff is versed on the various plans and healthcare reform changes.
Be sure your website is mobile-friendly.
Welcome new patients and take time to discuss their treatment plans.
Balance being efficient but still take time with your patients.
Make your patients' lives easier by sending them reminders for checkups and cleanings.
Make it easy and convenient for them to give an online review

.
How a patient feels after an encounter with you or your staff will determine whether they come back and refer others to you, or leave and tell thousands of their closest friends on the internet about their horrible visit. It's important to fully understand and communicate to your staff that in the competitive landscape in which you are doing business, the success of your practice relies on your office's ability to ensure that every encounter with consumers is a positive one.