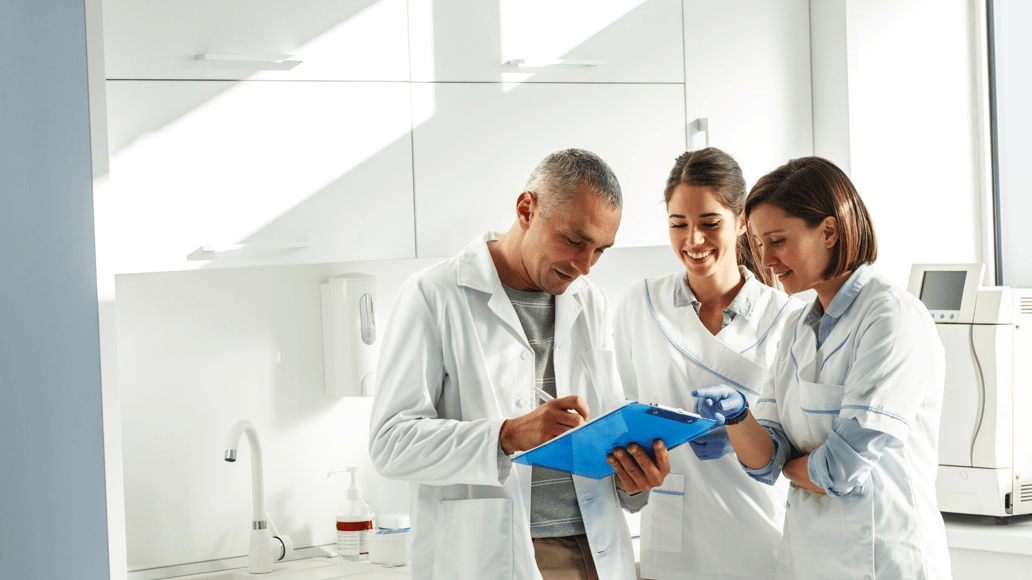 Reaching a balance between being a great dentist and an effective small business owner can be a challenge. While the patients and their dental issues may come as no surprise to you, the issues that arise from trying to effectively manage a dental office staff can. It gets stressful, dealing daily with staffing challenges arising from high staff turnover, frustrations due to mistakes, stemming from employees being unaware of office processes, or dealing with a negative work environment.
As you grapple with addressing these problems, here's a tip to keep in mind: effective dental staff meetings are key to a successful dental practice. It helps engage your staff by keeping them informed about changes or initiatives, gives them the recognition they need and helps them know they have a voice.
There are many benefits for having team meetings, such as:
Input from each team member can improve the patient's experience.
Working together creates a synergy; staff members may come up with ideas for improving time management, patient triage, or administrative issues, such as technology applications, billing, or procurement.
Staff members will understand that they are a key part of patient care.
Regardless of the size of the practice, staff members feel as if they are contributing to the practice. They will feel engaged and likely will act in a way that is both appropriate and independent.
With cohesive staffs, any issue or problem—whether patient-related or not—is likely to be resolved more quickly, and the resolution standardized to avoid the same issue cropping up in the future.
Here are some tips to help you organize effective dental staff meetings:
Provide a meaningful agenda: Post an agenda one week ahead of time so that team members can contribute current interests or issues to the discussion. Use the meeting to keep employees updated on the future, policy changes, production numbers, and to conduct group training as needed. If you are short on time to hold meetings, schedule separate meetings through the day or month for different topics. For example:
The Huddle – a morning gathering of 10-15 minutes to discuss what is happening that day.
The Numbers Meeting – a review of the practice's statistics and productivity that can be held monthly or quarterly.
Training Meetings – This is recommended to do monthly for learning new skills and techniques.
Teamwork Meetings – Monthly meetings involving a more in-depth catch up and review of the practice, such as reviewing productivity goals, giving recognition, planning calendars and so on.
Create an environment for group discussion. Engage the team as participants rather than spectators. Allowing team members to contribute topics to the agenda is one example of such participation. Another way to encourage participation is to have team members write their problem-solving ideas per topic on sticky notes. The meeting leader can then work through these possible solutions with the team. This also gives introverted team members the opportunity to contribute without speaking up in front of the entire team. Unresolved issues can be shelved until the next team or department meeting.
Set specific goals and action items. Examples of goals may include reducing the number of no-shows and cancellations, increasing the number of new patient referrals, or increasing restorative case acceptance. Action items should include the specific tasks team members can do to contribute to a goal in their role.
Reward your staff and share success stories. Reward team members for their elevated and goal-focused performance to sustain behavior and encourage steady practice growth. End the meeting with a positive note and share positive patient testimonials. Rewards for their hard work and great success stories from patients will give your staff fuel to do an even better job moving forward.
Remember, a commitment on the part of the whole staff not only to attend meetings, but to prepare and participate in them, makes consistently achieving practice objectives a viable reality. When you begin to view meetings as an investment rather than an expense, the results will be powerful. Download our free dental service provider's guide on improving your office management practices.
Related Topics
How to Improve Your Dental Staff Patient Experience: Starting with Staff
5 Ways Your Front Desk Can Help Your Dental Practice
Mastering Your Dental Practice: What Kind of Boss are You?
Managing Employee Conflicts in the Dental Office
Office Management Tips for Dentists That Work